>[This is an edited version; the full piece is available here.]
The City's "invitation to other potentially interested parties" regarding Redgate closed this morning. It will be interesting to see what comes in. I tried to talk Butler's Orchard into submitting a proposal to run a pick-your-own orchard on the site, but they chose not to. I thought that the idea, as well as a few related ideas, was worth consideration so submitted a proposal in response to the City's announcement. It isn't an offer in the sense that they perhaps meant to request, but I hope it will cause our Mayor and Council to consider these options.
3 Redgate Proposals
Redgate Orchard: Rezone Redgate for agriculture and sell or lease it for operation as an orchard. If operated as a pick-your-own similar to Butler's Orchard, it wouldn't be lost as open space to Rockville residents. It would provide good, clean family fun, healthy food and exercise. It would end the $600,000 plus subsidy we now provide to golfing on the property, and either provide an upfront block of money if sold or an income stream if leased.
Redgate is losing money. Rockville's budget is tight. Our budget is likely to get tighter over the long run. We face continuing cutbacks in State and County support.
The big picture isn't reassuring. We are now at or near the peak of global oil production. American oil production peaked 40 years ago. Global discoveries peaked in the mid 1960s. We have been burning more than we discover since 1980. Global oil production stopped growing in 2005. . . . Declining oil will mean a declining economy. That will put continued pressure on local government budgets and it will render it likely that Redgate will lose more money as time passes. In addition we face debt challenges and the aging of the baby boomers, which will also burden local finances.
Cities have traditionally been fed by the farms that are adjacent to them. While grain shipments over substantial distances have long historic precedent, it is only quite recently that we've replaced local fruits, vegetables and dairy with 1,000 mile supply chains. Long distance sourcing of food is made possible by cheap oil, which will soon disappear. . . . If we sell or lease Redgate for operation as a farm/orchard, we can redirect the money that is currently used to subsidize golfing, as well as using the proceeds from the sale or lease. We need to transition Rockville into a community that uses far less energy. Having additional money will make that transition easier.
Full disclosure: I contacted Butler's Orchard and encouraged them to respond to this request for information. They considered the idea but chose not to propose such a venture at this time.
Redgate Community Garden: Another possible use of Redgate would be for community gardens. Many towns in Britain have large community gardens at the outskirts. This would provide benefits similar to a Redgate Orchard in recreation, exercise and food, but would likely serve a smaller number of citizens, since it's easier to drop by to buy produce or do some pick-your-owning than to manage a plot from planting to harvest. This option would also leave the management of the facility in city hands, for better and worse. Establishing the gardens would have initial costs that may rival the subsidy we are providing to golfing. I suspect the long term cost would be lower, and believe the benefits would be greater given my concern about the sustainability of our food production system. Those who golf are a subset of those who eat. This property is a rare opportunity for a very large community garden. Keeping Redgate for individual plots instead of a privately operated orchard would allow the produce to go to families without them needing the cash to buy the produce. This could be a significant benefit to families in a potential future with high unemployment.
It is likely that we don't have enough demand right now to have community gardens on the whole golf course. One option for the remaining land is to plant it with nut trees. Hardy pecans would take 10 years to begin harvesting, by which point we may be quite happy to have a source of protein and fat that doesn't need refrigerating. And if worst case scenarios don't play out, then we can enjoy pecan pies while congratulating ourselves for managing the many challenges that faced us a decade or two ago so well.
Rockville Farm: A different twist on the idea of converting Redgate to a farm or orchard is to put the focus on cultivating kids as well as crops. Some cities have used urban farms as developmental opportunities for children. Here the focus is more on providing rich experiences for our children and less on creating a profitable farm. The City could use the land to create a facility that teaches kids where food comes from, gives them healthy outdoor fun and help them to grow up as well rounded citizens. This model of course doesn't preclude growing food, but the purpose is recreation and personal development. As such you would expect that it would either mean the City would run it or have a non profit organization run it. We would expect that it would still cost the City money, perhaps even more than what the golf course costs. But it would be a substantially different use than a golf course, perhaps better suited for Rockville's needs. To get the maximum out of this approach, the City may want to allow farm animals in this facility, which would require a modification of current policy. Keeping Redgate as a City operated facility would allow us to use the land as we see fit, perhaps reserving a portion for a driving range and a few putting greens, devoting part to community gardens and using the rest for a farm to "cultivate kids, crops and animals" to quote the tagline for The Urban Farm in Denver.
A few thoughts about the unsolicited proposals – These would require a sea of parking, paving over an area about the size of Richard Montgomery's campus. They would have set start and stop times for the events held there, releasing great bursts of traffic out onto already overburdened roads. An orchard, farm or community garden, with an opening and closing time rather than tip off or start time would have a traffic pattern more like the golf course – evenly spread through the day.
So the arena or ball park would create big traffic problems until declining oil undermines their profit model. Then they will fail, leaving us with a sea of pavement surrounded by a golf course that once again needs subsidy to survive.
Redgate golf course needs continuing subsidy to continue to operate. It will likely need an increasingly large subsidy. We should explore other options such as those outlined here.
More broadly, we should rezone the other golf courses in Rockville to allow both their current use and agriculture. Some agricultural uses can coexist with golfing, so that this zoning would provide options to the current managers that may not currently exist. But more importantly it would make it clear what their usage would be if the golf course goes out of business. The current zoning would have the land developed as sprawl housing. This would be a tragic mistake.
We face extraordinary challenges in regards to global warming and peak oil. Local food production will help address both these problems and saving the thousands currently spent to support the golf course could allow us to get through these troubled economic times.
Carl Henn
This is a Contributor Opinion. Rockville Central encourages readers to submit such pieces for consideration — the more voices the better. Simply send them to rockvillecentral@gmail.com. We ask that all such contributions be civil and we reserve the right to edit (in consultation with the author) or reject. Contributor opinions should not be seen as reflecting opinions held by Rockville Central editors, as they are just as frequently at odds with our own views. That's the whole point!
>
Can't say as how I like the rain very much, but at the end there I liked the snow even less. So I was tickled when Rockville Central friend Carl Henn sent this along on April 6, titled "The Last Snow." Of it, he says: "My Co-worker Kim Doherty and I took this shot this morning. It is the last snow from a massive pile that was behind my office's parking garage. Photographed with newspaper in kidnapper style to prove it was still alive on April 6."
>This winter's heavy snow and high winds have damaged and destroyed a fair number of trees. That is a pity since trees give us shade, reducing the energy we use to stay cool in summer. They block the wind, reducing the energy we use to stay warm in winter. They protect our watershed by reducing the storm surge when it rains. They give us the oxygen we need in the air we breathe and provide beauty that we often take for granted.
We tend to forget that trees can also give us food. I got a mailing from the Arbor Day Foundation earlier this week that offered me ten trees, not one of which provides food for humans. To be fair, I could eat the crab apples if I were hungry enough.
I hope never to be hungry enough to eat crab apples on a routine basis. But our agricultural system is heavily dependent on oil. We use oil to plow, plant and harvest our food. We use fossil fuels to generate nitrogen fertilizer, to dry crops for storage, to grind the grain, bring the food to market and cook it. Each calorie of food we eat has around 10 calories of fossil fuel embedded in its production.
Many energy experts believe we are near the peak of global oil production. America's production peaked 40 years ago and has since fallen by half. World oil discoveries peaked over 40 years ago and we've been burning more than we discover since 1980. And we have more mouths to feed each year. We added over 70 million people worldwide last year, about the population of the entire United States in 1900.
Put rising population together with declining oil production and we will soon find ourselves in a different circumstance than we currently enjoy. I believe that we could manage the transition to a sustainable world without collapse or starvation if people of all nations acted promptly with intelligence and compassion. I haven't seen that happening yet.
But I don't envision huddling in the dark eating crab apples for my future. I'd rather eat apples and pecans. Accordingly, I have planted a few apple and hardy pecan trees. The storm-killed trees offer us an opportunity. Plant fruit and nut trees in their stead.
You may not see times coming that are hard enough to require you to grow your own food. I would note that Manna Food Center has faced unprecedented demand this year. Further, it has been normal through most of human history to grow your own food. And remember it takes years for a tree to get to the point where it provides fruits or nuts. We must anticipate the need.
The City of Rockville plants around 700 trees each year. These should also be fruit or nut trees.
Now is the time to find your tree catalogs or look online and order them, so you can plant them in the spring. I know next to nothing about fruit and nut trees, so I won't offer any advice other than to be sure to plant them far enough away from your house that they fit when full grown, be careful that some varieties need another tree of a different cultivar nearby to pollinate, and note that you can train hazelnuts to serve as hedges.
Carl Henn
This is a Contributor Opinion. Rockville Central encourages readers to submit such opinions for consideration — the more voices the better. We ask that all such contributions be civil and we reserve the right to edit (in consultation with the author) or reject. Contributor opinions should not be seen as reflecting opinions held by Rockville Central editors, as they are just as frequently at odds with our own views. That's the whole point!
>Let's say you want to put solar panels on your roof. It's a big expense. There are many options to choose from, many companies offering different products, lots of paperwork to get the state, local and federal support that is available. It's a daunting prospect. I'm sure some people who might otherwise move forward with solar panels haven't due to the complexity of the process, while others fear they'll pay too much or buy a system that doesn't perform as anticipated.
Solar Co-ops can help overcome these barriers. Depending on how it is organized, they may also reduce the cost by buying in bulk instead of as a single system at one household.
There is a fine example of what a solar co-op can do in the nearby DC neighborhood of Mount Pleasant. A few neighbors there wanted to install solar panels and thought if they are going to go to all the trouble of figuring the whole thing out, they would bring some other neighbors along and get a volume discount. They were driven to action by deep concern about global warming and other environmental problems. They have succeeded in getting 50 systems installed so far. See http://www.mtpleasantsolarcoop.org/
Another twist on this idea comes from the United Power Co-op in Brighton, Colorado. In this case, the power co-op is the local utility. Noting that many of their customers wanted solar power but face the same barriers noted above or don't own their roof or have too much shade for solar to work at their home, they created a "solar farm" leasing arrangement. See http://www.unitedpower.com/solpartners.aspx They set up solar panels on their own land, getting the capital from their customers. They provide a 25 year lease on a 210 watt photovoltaic panel for $1,050. They provide a 3% return on investment, based on current energy prices. Their promotional material claims a 17 year payback, though my own calculation shows that unless electricity prices increase, it won't pay for itself before the lease expires. But carrying an income source into the future isn't risk free. The stock market disappointed my expectation for a return on investment and indeed has swallowed much of the principal I invested. This investment has the potential to hold its own against inflation since rising energy costs are a primary source of inflation.
Another co-op approach worth noting is the effort by the Rockville Chamber of Commerce. They will negotiate purchase of wind generated electricity on behalf of their members. See http://www.gazette.net/stories/12022009/rocknew220922_32535.shtml This will be done through Clean Currents, which is also available to individuals who aren't in the Chamber of Commerce. Clean Currents will sell you electricity that has been generated via wind turbines as described at http://www.cleancurrents.com/index.php/C-Green-Overview Currently, their price is lower than the standard Pepco price.
So what should we be doing differently in Rockville to increase renewable energy generation? First – step back and look at the bigger picture. There is a good chance you can save more energy by putting insulation in your attic then by putting solar panels on your roof, and can do so for less money. You should get an energy audit. Chevy Chase recently set up a rebate program for their residents to pay for energy audits and a portion of the upgrades that such audits recommend. See http://www.townofchevychase.org/n/166
The co-op approach used by Mount Pleasant is very powerful. But it requires a huge effort by a few individuals. I've seen several websites from other people trying to do the same thing. Most of them haven't had a single installation yet. My hat is off to the Mt. Pleasant folks. Convincing people to part with thousands of their dollars, and setting up a structure for the contracts to work through is quite an accomplishment.
I would recommend a simpler approach – negotiating a "Rockville Deal" for solar panels that any resident can use, without trying to put the contract through the City or a community group, without guaranteeing a certain number of installations. While this would likely mean the cost per unit would be a bit higher, it is a more achievable approach. It would still be helpful. The City could set up a competitive process, eliminating those companies that have had performance issues, negotiating the technical specifications and prices of the unit and setting forth how to capture the state, local and federal subsidies. It would likely still be cheaper than most people would get on their own. The City could present the Rockville Deal approach in the proper perspective – energy audit first, invest in the most cost effective upgrades, how much sunlight/shade do you have?, is your roof good for another 15 years (i.e. Don't put new panels on an old roof). If you get guidance from a salesman, you might not get unbiased advice.
The City could also mirror the approach taken by the Brighton co-op. The City's owns a number of buildings that have unshaded roofs where solar panels could be installed. The City doesn't have the money to do this, and indeed if they did they would probably be better served to put that money into more efficient street lights or better insulation at Glenview Mansion. But they could lease panels in such a manner that citizens would pay for the panels and the city would then pay the citizen for the electricity that the panels generate.
Investing in solar panels as an individual requires an appropriate site, knowledge of the marketplace and technology, knowledge of government subsidy programs, research into contract terms and such. Making this investment through the City allows for economies of scale, and makes it so each individual doesn't have to do all the legwork alone. It makes the process more simple and accessible. This program would provide an investment alternative to the stock market which may fail widely in an era of declining oil production. A Rockville Solar Farm may well be one of the better investments available.
Carl Henn
This is a contributor opinion. Rockville Central encourages readers to submit such opinions for consideration — the more voices the better. We especially welcome people who disagree with us. We ask that all such contributions be civil and we reserve the right to edit (in consultation with the author) or reject. Contributor opinions should not be seen as reflecting opinions held by Rockville Central editors, as they are just as frequently at odds with our own views. That's the whole point!
>Our new Council should name a commission consisting of two council members, and one each from the Planning, Traffic and Transportation, Environment, Human Rights and Human Services Advisory Commissions, as well as REDI and the Bicycle Advisory Committee. The Commission should be charged with addressing two questions: What is the nature of the challenge that peak oil presents to our city and what responses should we implement?
World oil production stopped growing in 2005. Oil consumption in the U.S. has declined since 2005. The price run up from $50 per barrel in 2005 to $147 in 2008 was in large part due to the continued growth in demand for a product that was no longer growing in production. The collapse in price from $147 in 2008 to $35 in early 2009 was due in part to the damage the high prices did to our economy and in part to the exposure and collapse of various Ponzi schemes in finance and real estate. The rapid recovery of oil price to $80 a barrel in spite of no economic recovery reflects that the underlying problem remains – our economy needs more oil than the interaction of economics and geology can provide. Many oil experts have concluded that the peak of oil production is now in the past.
If the economy recovers and begins to grow again, oil demand will likely recover with it. But oil supply is now in decline so that another price spike will result. Oil can easily exceed the $147 we saw in 2008. We will see a repeat of the process – price spike followed by economic collapse. The next collapse might finish off the domestic auto industry, put the final nail in the coffin of the sprawl housing industry and wipe out several airlines leaving flight as the province of the wealthy.
If the economy remains anemic, we could see oil prices fall as capital and demand destruction outpace deficit stimulus spending. We will scratch our collective heads for a few years trying to figure out what's wrong. In a few years oil depletion will drop production below our depressed demand and price will rise in spite of high unemployment. This will squeeze the industries listed above into collapse. In either case, those dieing industries will drag others down with them. The unemployed can't eat out much so the restaurants suffer. Business falls off all around. We already know what this feels like. It will be the same only more so.
While this crisis may hit first in oil, it will soon affect other areas. During the 2008 oil price spike, industry poured tremendous amounts of corn into ethanol production. This drove up corn prices, which drove up rice prices and resulted in suffering and food riots in foreign capitals. While there are key differences between various energy sources, their markets connect. If rising oil price leads to more use of electric cars or plug in hybrids, this will drive up the price of coal and natural gas which are used to generate electricity. Or if we convert coal to gasoline, the price of coal goes up as we destroy climate stability in order to get our gasoline fix. Of course we could just convert to hydrogen, except that hydrogen isn't a fuel source at all – only a leaky fuel storage system that can only work when we have excess energy, which we don't.
Another scenario is possible. Recognizing the nature of our problem, we work collectively and individually to reduce our energy demand and to convert to renewable sources. Turning off the water while you brush and putting in curly light bulbs isn't enough. We will need to choose to have fewer children, admit fewer immigrants, eat lower on the food chain, dump our gas guzzlers, take transit, bike, and find ways to use far less energy in our homes and offices. In the long run I suspect we will be doubling up in some homes and selling sprawl McMansions for scrap and returning the yards to farming. If this sounds unpleasant, note that the alternatives are worse. It is possible our oil supply will fall off fairly rapidly. The dangers both long and short term are grave. We need to leave oil before it leaves us.
I suspect most people reading this don't agree with my diagnosis of the problem. Knowledge of peak oil isn't widespread. Faith in technology to fix our problems is high, as indeed technology is part of the solution. Our media has done nearly nothing to inform us. We are distracted by less important matters.
If only peak oil were our only problem. It isn't. It may not even be our most serious problem, though they all interrelated. We must also face the prospect of climate change, the demographic challenge of retiring boomers, too much debt at all levels, water shortages, soil degradation, the extinction crisis and more, all within the context of a weak economy.
There are a number of things we can do to address these problems here in Rockville. But it starts with understanding the problem. The more I've read about our situation, the more concerned I've become, though it is easy to get sidetracked by stories taken out of context. For instance, new technology has allowed us to put oil shale into production. But oil shale provides us less than 1% of the oil we consume and the shale wells deplete quickly. Nuclear energy doesn't rely on oil and doesn't put out much carbon. But we will need to build many plants just to replace retiring ones, and there are limits in available fuel. The big picture is relatively clear. We face declining energy availability.
Carl Henn
This is a contributor opinion. Rockville Central encourages readers to submit such opinions for consideration — the more voices the better. We especially welcome people who disagree with us. We ask that all such contributions be civil and we reserve the right to edit (in consultation with the author) or reject. Contributor opinions should not be seen as reflecting opinions held by Rockville Central editors, as they are just as frequently at odds with our own views. That's the whole point!
>
This grim image is by Carl Henn. Of it, he says: "A pedestrian paddle, in a crosswalk on a double yellow line, smacked down. Just evidence that the dangerous driving that killed Codi is too common."
Note: Carl Henn is a candidate for City Council. Rockville Central does not endorse candidates.
>Back in March I asked folks to send two e-mails to help resolve the access and security issues between Rockville and Montgomery College. The process initially improved – the City became more aggressive in promoting a solution that would allow access for bikers and pedestrians while preserving security for nearby residents. The College, in announcing it was willing to allow a smoking area on City owned land that happened to be inside the college fence, took a big step toward implementing that solution.
But with a July 24 letter from Judy Ackerman, Vice President and Provost of the College, to Scott Ullery, Rockville's City Manager, the College is reneging on this offer and appear happy to be a bad neighbor. They no longer intend to create a smoking area and open the fence.
They say that "such action, however well intended, would obscure our goal to be a smoke-free institution." They intend to allow a misguided devotion to principle to block a healthier, pragmatic policy. If they don't allow a smoking area away from the Princeton Place entrance, then students will be forced to walk through a cloud of smoke right at whatever entrance the smokers find most convenient. The smoking area/fence opening under consideration would reduce loitering in Princeton Place, would allow access for the hundreds of citizens who need it and would prevent the 'entrance – smokers gauntlet effect".
In March I asked folks to send e-mails to both the City and the College. I think the City is now acting appropriately and the College needs another firm kick in the pants. Please send an e-mail to Trustees@montgomerycollege.edu expressing support for a the City's proposed Memorandum of Understanding. The City may need to compromise on a few details, but in broad outline has the right approach.
E-mails aren't nearly as powerful as personal contact. It is the Montgomery College Board of Trustees that we must reach. The members are listed here. If you know any of the members, please reach out to them to ask that they be a better neighbor. Hopefully, this will be resolved before the next Board of Trustees meeting – September 22. But if not, you need to sign up at least a week in advance to speak.
This issue is too important to drop. Our citizens need access and the immediate neighbors need security. The City's MOU would meet these goals. The College's refusal to agree to this is truly sad.
Carl Henn
Carl Henn is a candidate for City Council.
This is a contributor opinion. Rockville Central encourages readers to submit such opinions for consideration — the more voices the better. We especially welcome people who disagree with us. We ask that all such contributions be civil and we reserve the right to edit (in consultation with the author) or reject. Contributor opinions should not be seen as reflecting opinions held by Rockville Central editors, as they are just as frequently at odds with our own views. That's the whole point!
>
This cool, old wheelbarrow-thingy was snapped by Rockville Central friend Carl Henn.
>
This neat find is by Rockville Central friend Carl Henn. Of it, he says, "Rockville's skinniest fire hydrant, out front of Womack Pest Control."
And, apropos of our recent brightly colored hydrant photo, Our Fair City's JoAnn Grbach sent along some information that was pretty useful:
The City of Rockville is changing the color of its fire hydrants to help Montgomery County Fire and Rescue Services to better see them at night. The tops for the fire hydrants will be one of four colors based on the water flow of the particular hydrant.
Rockville's Public Works staff conducted a study of its water distribution system and, in doing so, met several times with Montgomery County Fire and Rescue Services, which indicated the current hydrants – red barrels with black tops – were difficult to see at night. Following a national standard, new colors were chosen. The National Fire Protection Association guidelines were used. All barrels will be yellow.
The tops are based on flow and the color scheme is as follows:
Less than 500 gpm (gallons per minute): Safety Red
500-1,000 gpm: Safety Orange
1,000-1,500 gpm: Safety Green
Greater than 1,500 gpm: Safety Blue
Fire hydrants will now be more visible and fire and rescue personnel will know a hydrant's flow capacity based on the color-coded tops.
The Department of Public Works plans to replace hydrants and implement the color scheme in coordination with its watermain rehabilitation program.
The reason the hydrants in Woodley Gardens are painted with the new colors is because a Boy Scout troop painted them as part of a community service project.
>The following Contributor Opinion is by Carl Henn:
The recent decision by the City Council not to support the Beall's Grant II project isn't the end of the story. Regardless of how it turns out there will be consequences. Montgomery Housing Partnership may cut the size of the project significantly to meet neighborhood concerns. While this would reduce the impact of the project on the neighborhood, it would also decrease the number of people that it can serve while nearly everyone concedes that we have a tremendous need for affordable housing. Or perhaps MHP and the neighborhood won't be able to find a workable compromise. This could result in an even worse outcome. If MHP finds that they can build more affordable housing for the same money elsewhere, they may sell the lot and the Rockville site will be built for the standard commercial market. The neighborhood impacts may be nearly the same as the current proposal, but without creating significant additional affordable housing. A commercial development wouldn't require council approval, so would be less constrained by neighborhood interests.
Both sides have reason to compromise. What they need is better ideas on how to compromise. I believe that Car-Free by Contract housing, supported by investment in transportation alternatives such as car sharing, bicycles, grocery delivery, and transit can make this alternative work. Instead of building a 212 car parking garage and a 17 space surface lot, they could build a 200 bicycle parking garage and a 17 space surface lot with 10 shared cars provided and a free bike with each apartment.

The concept of Car-Free by Contract is that the project is given permission to build far less parking than is usually required in exchange for implementing a plan to ensure that the parking isn't needed. Residents sign a contract agreeing not to own or use a car while living there. The contract establishes that they will be evicted if they are found to be keeping a car, with loss of security deposit.
Car free living isn't for everyone and doesn't work everywhere. But this is a circumstance and place where it can work. Beall's Grant II will be primarily affordable housing. So many people are waiting for affordable housing that finding 100 households willing and able to get by without a car is very workable. Moreover, Beall's Grant is within walking distance of Metro, several bus routes and plenty of stores.
The advantages for the neighborhood and city include far less traffic and a smaller building footprint. It is also likely that by selecting people who are able to live without cars that the number of additional students brought into Beall Elementary will be reduced. The arrangement is inherently more environmentally sustainable – car free living uses less energy. But it also opens up new opportunities. The smaller footprint can allow space for a community garden. The money saved by not building parking can instead pay for more advanced environmental features.
Let's consider the math: Structured parking costs around $20,000 per space. Eliminating the 212 space garage saves $4,240,000. Providing a basic but fully outfitted bike (lights, fenders, panniers, helmet, lock) should cost around $500 each. One hundred would total $50,000. You can fit 12 bikes in the space of one car parking space. If it cost the same as structured car parking, we could provide 200 bike parking spaces for $333,333.
Providing a car sharing service is central to making this concept work. By providing a fleet of cars to share, people can have the use of a car for occasional use, but can share the expense with their neighbors. A fleet of ten cars for 100 households would provide a car when needed at only a tenth of the cost of maintaining a car for each household. Even if brand new cars were purchased for cash up front, this would cost far less then the money saved by not building a 212 car garage. Ten cars at $20,000 each is $200,000. My newest car cost me $5,000 – we don't need to buy all new for this concept to work. Car sharing is already working in our area through Zipcar, or a non profit co-op can be created to manage it, ranging from a large successful venture in Vancouver to a small community startup.
This still leaves plenty of money left over to provide solar water heating for the complex. A laundromat/car wash in Massachusetts built in solar water heating for $55,000. A similar approach would keep the energy costs lower for this apartment throughout its life.
The cost of the car sharing, bicycles, bike parking and solar water heating comes up to $3.6 million less than the cost of the car parking that they forgo.
In Vienna, a Car-Free by Contract apartment building arrangement allowed an apartment complex of 244 units to provide only 20 parking spaces.
Making this work at the Beall's Grant II site would solve a vexing problem. Beyond that it points the way to a more sustainable future. While this approach has worked elsewhere, this isn't an off the shelf, cookie cutter model. This process, even after the fundamental agreement is reached, will take a lot of thought. Is it better for car sharing to happen through Zipcar, an MHP program or some other approach? How can bike lessons be provided to residents, and how will that be arranged? Can free deliveries from PeaPod or their competitors be arranged if a given number of residents agree to a particular delivery schedule? What exact language should be used in the Car-Free contract?
Pulling this together is an exciting and worthy challenge. The active engagement of the neighborhood, MHP and the City will be needed. The seven month delay necessitated by the Council's decision not to move forward at this time provides the time needed to completely revise the proposed development. Car-free by Contract housing is the tool that can break our current deadlock and create a positive outcome for everyone involved.
Rockville Central runs occasional, edited opinion pieces by contributors as well as other guest columns. Their views are not necessarily those of Rockville Central. We encourage you to join the growing list of contributors! To submit your piece for consideration, contact us.

>
This great photo is a family affair. Submitted by Rockville Central friend (and contributor) Carl Henn, photo by Jessica Henn, pumpkin carved by Allison Henn. There was no way I could refuse.
>The following contributor opinion is by Carl Henn:
Choosing our president won't be our only task when we go to the polls on November 4. We also must decide if Maryland should bring slots back. Maryland had more slots than Nevada until 40 years ago, then banned them based on the observation that they left a trail of wrecked lives in their wake and left gambling interests in control of many counties. People would spend their kid's lunch money on slots and some turned to crime to feed the machines as they become addicted to the one-armed bandits.
The slots plan for Maryland is supposed to raise $660 million for schools. This sounds like a lot, and indeed it is. But that is the gross increase in funds, not net. Money spent on slots isn't spent at restaurants or clothing, so we'll be short on other tax revenues. We will need to pay more for police and social services to deal with the harm that gambling addiction causes. Studies show that over time the cost of gambling exceeds its revenues. Further, $660 million is now conceded to be an overestimate. It's now $500 million at best.
I am troubled by the 'something for nothing' attitude that pervades slots. We won't need to make tough decisions because slots will save us. Likewise on a personal level slots undermine sound decision making. It's hard to save money. It's harder still when you think each quarter you plug in a machine may solve your financial problems. Worse, when you do get a payout, folks are likely to think of it as found money. Found money is likely to be spent frivolously rather than saved. Slots undercut sound decision making both for governments and individuals.

A focus on energy and transportation brings other insights to the slots issue. We are now at or very near the peak of global oil production. The current downturn in the price of oil is temporary. High prices will return shortly and go higher still than we have recently seen.
This undercuts the argument that we need slots because the money will otherwise leave the state. As the price of oil rises, we will have less discretionary income to gamble away and driving to West Virginia or Delaware will recede as an option for most Maryland residents.
As the price of oil went up, it took asphalt, steel and concrete with it, causing a $100 million over run in the first part of the first ICC construction contract. Governor O'Malley then cut all of the construction funds for the Purple Line and Corridor Cities Transitway in order to keep the ICC on schedule.
The over run they have admitted to so far is just the beginning. The ICC will continue to over run and more money will be needed to keep the ICC going. That's where slots come in. O'Malley has already said that slots will help us to avoid budget cuts. So here is the plan – Pass slots and provide the proceeds as promised to the gaming sites, horse racing industry and education. Then reduce state support to education and use that money to fund the ICC.
Most of the people supporting slots have said that we need it for the additional money it will raise. But we should be honest about what we are raising the money for and that there are better alternatives. It isn't too late to cancel the ICC. O'Malley could cancel it tomorrow with one phone call. This would go a long way toward solving our temporary funding problem. In the long run, the costs of slots exceed its benefits.
Rockville Central runs occasional, edited opinion pieces by contributors as well as other guest columns. Their views are not necessarily those of Rockville Central. We encourage you to join the growing list of contributors! To submit your piece for consideration, contact us.
(Image from Baltimore City Paper)
>The following contributor opinion is by Carl Henn:
Perhaps you've heard the cautionary tale of Easter Island. Easter Island is the windswept, grassy island over 2,000 miles off the coast of Chile with the enormous stone heads. For years it was a mystery how they could have been carved, transported and erected on an island that had no trees for rollers or cranes and no decent plant material for strong ropes. People even hypothesized that aliens had built them, since it seemed impossible for the small, Stone Age human population there to have built so many fabulous monuments.
Modern investigations have solved the mystery. Easter Island was once as heavily wooded as Hawaii, as shown by pollen spores found in core samples of the island's crater lake. The trees could provide rollers, skid roads and cranes, and other trees provided fine fiber for strong ropes. A count of the many ancient foundations of homes long since rotted away show that the island once supported thousands of people rather than the straggly few hundred that were there when they were "discovered" on Easter Sunday, 1722.
How did the island wind up with lots of heads and no trees?
They had cut down all the trees to make big heads. The trees that once allowed them to make big heads also provided shelter and fuel. Without them, they had to move into caves for shelter. The trees had provided seagoing canoes that allowed fishing to bring in protein from the sea. Trees had provided edible seeds as well that were lost to them when they cut the last nut tree. Trees also captured rainfall and charged the aquifers that provided fresh water. Without trees, the people went hungry. Easter Island went through a period of warfare, cannibalism and starvation as the once large population collapsed.
Not too bright, these Easter Islanders, eh? Well, they were every bit as bright as we are. We too are building big stone heads while undermining the resources that support us.
Our big stone heads are highways. We are burning the one time inheritance of fossil fuels in one big fiesta, supporting an ever larger population using oil to plow, plant, fertilize, harvest and process our food. We are building roads, parking lots, houses and shopping malls on some of the nation's richest farm land. Like the Easter Islanders, a day will come when we realize that big stone heads can't feed us.
Oil is finite and runs out as we use it. Oil experts believe we are now at or near the peak of global oil production. It will soon enter its inevitable decline. We will need to reduce our demand greatly. We should use the last of our oil to build a sustainable energy infrastructure, not to support one more round of sprawl. (Come to one of my energy talks to hear more about how we can get from where we are to where we need to be.)
The first thing to do when you find yourself in a hole is to stop digging. We are spending our limited transportation dollars on highways rather than more efficient transit, our own way of building big heads – infrastructure that will soon be worse than worthless. At least the big heads are interesting to look at. Highways are uglier than what they replace. Destroying forests, farms and wetlands with borrowed billions makes no sense.
Here is our biggest proposed stone head – The Intercounty Connector: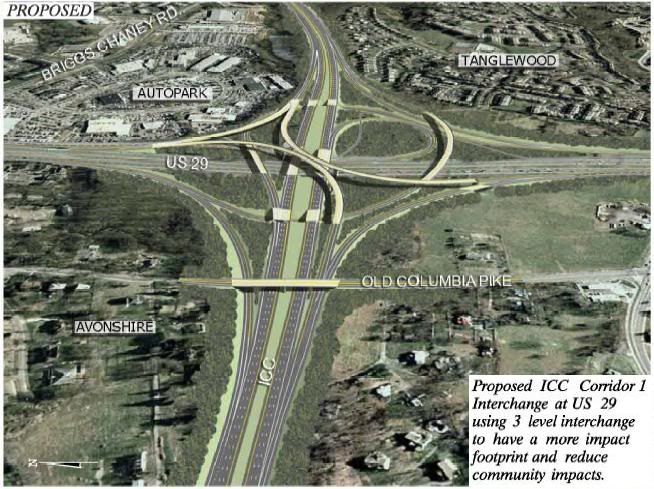 The ICC was estimated to cost $2.4 billion dollars in 2004. Since then the cost of oil, steel, concrete and asphalt have all increased markedly, yet the official estimate remains $2.4 billion. We are being lied to about its cost.
Underestimated at $2.4 billion, it costs too much. While this road literally bulldozes forward, the Purple Line limps forward with barely enough funds for planning, and the Corridor Cities Transitway is nothing but a dream. The ICC stole its lunch money.
Even if we magically found an answer to our energy problems tomorrow, the ICC wouldn't make sense. It is projected to trigger another 5 to 20 thousand acres of additional sprawl and to increase traffic on segments of the Beltway, I-95 and I-270. It would undercut existing businesses in Silver Spring and Wheaton by funneling customers to the new regional Konterra Mall to be built where the ICC would meet I-95.
But we have no magic energy answer. Our cars run on gasoline and cause global warming, smog and acid rain. We can't reduce our global warming impact by spending billions to move in the wrong direction.
The ICC was planned for a world with no energy problems. The ICC study assumed that oil would cost the same in 2025 as it cost in 2004. That has already proven wrong. Oil cost $40 a barrel in 2004 and $100 a barrel today. The ICC was intended to support ever growing traffic. But in response to rising oil prices, vehicle miles traveled have been in decline for two years.
The ICC can still be stopped. The General Assembly will soon vote on three bills regarding the ICC. HB 1471, with 40 co-sponsors, would repeal the ICC's funding package, freeing $2 billion dollars for other projects. HB 1416 would block further expenditures until the highway's impact on global warming is assessed. This was never done in the Environmental Impact Statement process. And a third bill would require the state to assess the public health impacts of the ICC on air pollution before spending more money.
Our District 17 Delegates and Senator aren't cosponsors of these bills. In fact they are all ICC supporters. It's time for them to wake up and smell the coffee. If they understood peak oil, they wouldn't support this road. All our District 17 representatives have cosponsored the Global Warming Solutions Act. If they truly care about global warming, they would vote against the ICC.
Please let them know where you stand. style="color: rgb(153, 0, 0);" href="http://www.rockvillecentral.com/2007/11/rockvilles-legislators.html">Here is their contact information.
The biggest supporter of the ICC today is Governor O'Malley, who claims to care deeply about the environment and global warming. Ask him to connect the dots and drop the ICC. You can e-mail him through the form here.
The stakes really couldn't be much higher. Please contact your Maryland representatives and urge them to vote for the bills to stop the ICC. If you have any questions feel free to contact me.
Carl Henn
Hungerford
Rockville Central runs occasional, edited opinion pieces by contributors as well as other guest columns. Their views are not necessarily those of Rockville Central. We encourage you to join the growing list of contributors! To submit your piece for consideration, contact us.
(Images from Bugbob and Freestate Politics.)